Being a bride is every girl's dream. Right from the day we are born, to wearing those small-sized lehengas with mom's oversizedbindi on our forehead to play with the numerous dolls and getting them married to the neighbours groom dolls, we have all harboured the secret dream of being a real bride one day replete with all the traditional Indian customs. However, being a bride is lovely, but the underground works and comprehensive and exhaustive planning process can get to us sometimes. When everybody is happy and searching for banquet halls in Delhi, all you have been asked to do is glow and smile and be healthy…but little do they know that you are having sleepless nights and stressed-out days wondering how to find the perfect bridal lehenga for your wedding!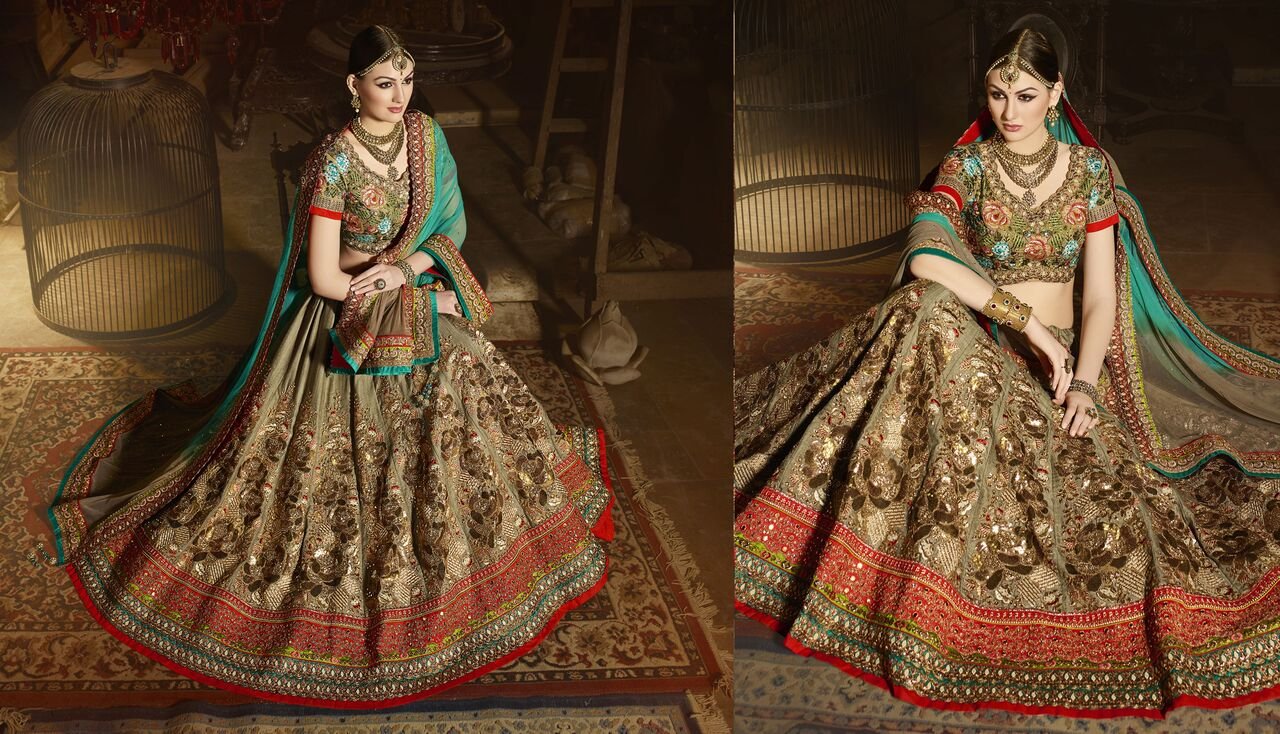 We all go through numerous wedding blogs and endless wedding magazines apart from gorgeous looking facebook pages to find that perfect wedding ensemble but the truth is what looks good on some girl in the neighbourhood or on some waist less model, might just not be the right thing for you! Instead of giving you more thoughts to ponder on, let us be your angels from heaven, and give you some great ideas to shop for your wedding lehenga if you are going to be a Delhi bride!
These places will come to your rescue when you decide to go for lehenga shopping in Delhi. These are not to be missed at all
Asiana Couture
Asiana Couture is a well-lit and inviting store, which has been a newbie in the bridal trousseau business for quite some time. You will find this store in the by lanes of NaiSarak without much difficulty. You might not be very happy with the way they present their stuff and the experience they lack in terms of presentation but a look at their stunning designs will make you forget it all. Let us tell you that it has a trendy bridal collection which scores on quality and design and has a decent pricing which won't burn a hole in your pocket as well. For that trendy stuff, don't forget to walk in!
Sunehree
This particular store has been regaling customers and impressing them with their unique designs since thelastfiveyears. It is situated in ChandniChowk and their collections will definitely make you forget all that you may have checked out before. For a bride who loves the minimalistic look or for the one who loves the heavily embroidered lehengas, Sunehree boutique will make sure it suits your discerning tastes well. You should be ready to be flexible when it comes to the pricing but then the brand guarantees quality and luxury. Within a lakh, expect a deal that will make you walk away with a huge smile.
Om Prakash Jawaharlal
If there is one store which you shouldn't miss in the Mecca of designer wear in Delhi, then it is this store. Om Prakash JawaharLal is as famous as the Ghantewala sweets in Chandnichowk and not to be missed at all. With a collection that is at par with excellence and complete with the latest trends, their sophisticated yet beautiful lehengas with just the right amount of bling will leave you awestruck.Dating back to the mughals, they are one of the oldest shops in Delhi and greet you with a never ending smile whether you are their first customer or a regular at their store. A beautiful legacy tucked away in by lanes of a magnificent era!
Ogaan
This is a modern store in HauzKhas village that retails multi-designer collection, and has some stuff which will leave you spellbound. If you are looking for some alluring and remarkable designs along with a distinct classy look, then head off to Ogaan. It is interesting to know that some big names from the fashion industry had first retailed their collections here before they opened up their stores. A one stop shop to match everyone's needs – from designer studios to runways and labels; from khadi to handmade, handloom, luxury, couture and bridal collection, Ogaan is a fair buy for everyone!
Pakeeza Plaza
If you are looking for a more affordable deal, then Pakeeza won't disappoint you. They have a lot of variety on offer and won'tdisappoint you with the quality either. You won't be able to find a Manish Malhotra kindof an ensemble here but nonetheless but you will definitely find something which will look good on you. Some pleasing and delicate designs might catch your eye though if you look around a bit!
Dalmia Fashions
Starting off as a small store, today Dalmia Fashions is well-designed modern concept store with a lot of bridal designs on offer. They have a good range of high quality fabrics and embroideries with a lot of variety for every bride with a different taste. They will impress you with somesabya inspired outfits apart from other varieties of lehengasand some nice jacket silhouettes. If you have a mid-budget, don't miss Dalmia Fashions at all!
Lehenga house
Located in ChandniChowk, this is one of the most coveted shops for wedding lehenga shopping. Lehangas here are handcrafted by artisans from Lucknow and Kolkata, in fact you name the design you want and they will have a minimum of 8 pieces to show you. Lehanga making is a carefully orchestrated process and they are the masters of it. So you might just find a Sabyasachi or a Neeta Lulla replica right here and it will look just as good as the original piece. You will be dancing away like a radiant bride once you set your eyeson their masterpieces. Just be ready to shell out a little more, after all, quality and design costs a little, right?
Sudhir Bhai
Sudhir Bhai is another semi well-known shop in ChandniChowk, a place where everyone is a Bhai or a chand or lal or a singh!The collection is sometimes a hit, sometimes a miss because the variety keeps changing in Sudhirbhai store. But you may definitely find a good enough dress within your budget! You will also findsomestuff in beautiful pastel shades which you won't feel like rejecting at all. We should say, you will find diamonds at small places, right?
Shrangar
Shrangar has also been a trusted establishment in ChandniChowk since years. You will find a lot of variety here to select from whether it's your sangeet, haldi or marriage function. Apart from heavy colors, pretty pastels too are a sought after here.Shrangar will be the place you would ideally want to check out if you don't want to waste your time looking at different stores at a stretch.
The kind of talent we have all around in Delhi is plenty, no doubt at all. And, no wonder Delhi is called 'The Mecca for Shopping", something we are proud of! As a Delhi bride, we hope you to look like a queen on your wedding day, stay blessed!