…where Entrepreneurship meets Creative and Individualism…
Cover Model Dalal was photographed by Charlie Steffens for the COVER.
The Singer wore a beautiful, red JAY GODFREY dress, paired with silver plated earrings and CLARKS Silver pumps. Credit: Robin Platzer/Twin Images.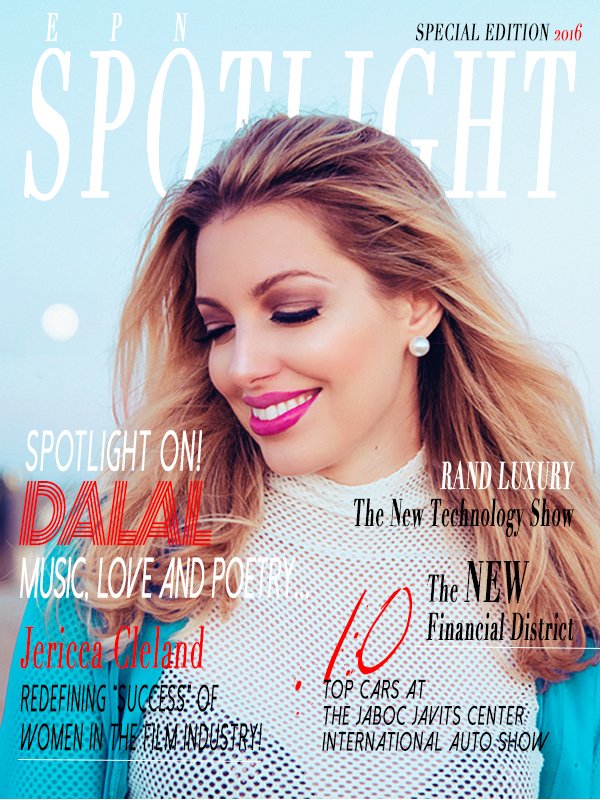 TOP: Dalal doesn't overdue it! She wears minimal jewelry, a pair of beautiful earring and a one ring. Her make up reminds of the Old Hollywood Glamour of the likes of Grace Kelly and Hedy Lamar (also Austrian). The red lipstick matches the elegant dress perfectly. The soft brown eye make matches the sapphire blue in her "Diana" like earrings. The silver shoes are a lovely accent.
The hair is slightly curled and parted on the side for that extra little swoop and oomph.
Dalal is an Austrian born Recording Artist, Composer and Actress also known as Dalal Bruchmann.
Connect with Dalal on social media @dalalmusic
(a little side tip: read her beautiful poetry)
Visit EPN http://epnofny.com/epnmag/
EPN is a Global Community of Entrepreneurs and Professionals from diverse industries, founded by Hubert and Maggie Delany with the goal of connecting, empowering and inspiring entrepreneurship and leadership worldwide using the most powerful forms of media.
Entrepreneurs and Professionals Network is headquartered in New York City. The Magazine features inspiring individuals that excel in their roles and stand out in their philosophy. From the Arts to Technology, Science, Fashion and Lifestyle. EPN reaches an international community of small and large business owners, investors, thought leaders, industry executives and technologists.