Come to think of it, you will also agree that it is indeed true that the super skinny look of the tight jeans have definitely had the longest influence on our sense of style till date, which found an obvious expression in our fashion, for as long a time as I can remember. But it certainly goes without saying that given a choice we often tend to go for a more loose and comfortable look which brings to us a much welcomed change about the way we look, for don't you ever feel that, we should let our legs enjoy some space too? They also need to get a breath of fresh air and simply breathe! Trousers for women are of various kinds, fitted, flared, cropped and long. But there is no ignoring the fact that there is a certain element of uniqueness about the loose legged flowy trousers which also look pretty appealing. Here enters the palazzos! With their distinct look, these loose trousers are surely a nice way to give those tight jeans and tube dresses their much needed break.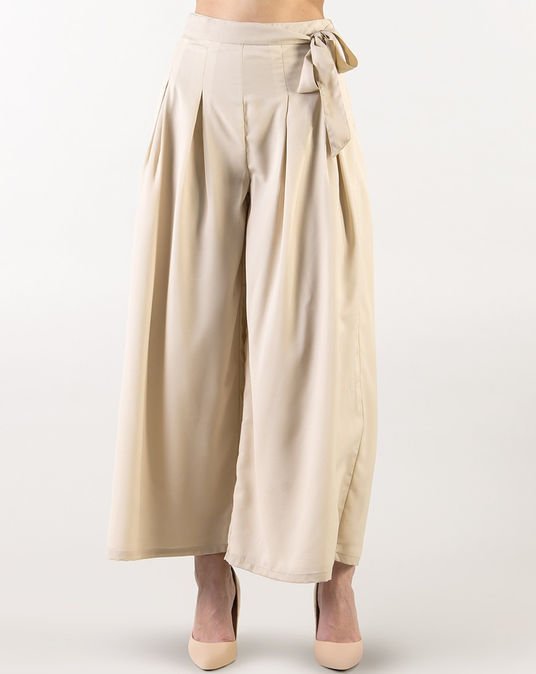 Palazzos can be actually worn to any place that you go to. But they are a little tricky to be styled. Though they are better suited for certain body types, but with the right dose of awareness and the willingness to experiment, any woman with any kind of body can look really attractive in these pants! For the tall and skinny women, palazzos that are a little cropped in length can be worn teamed with a crazy printed top to complement their frame. If your body type is slender or tending towards the heftier side, then these loose trousers for women are going to flatter you absolutely! For the plus size ladies the palazzos make them look leaner and give them that comfort, which naturally makes them feel more confident and hence more beautiful! If you are a petite woman, just wear your palazzos and tops with those killer heels to add an illusion of height, and you are ready to take on the world! Getting to build a style statement with these trousers for women is not that difficult, in fact easier than you feel. There is an effortless and cool element about the combo of a high waist palazzo pant and a well fitted cropped top or a tucked in tank top. These loose and comfortable trousers for women can also rescue you in those times when you have to look presentable but you want to look glamorous and comfortable both at the same time.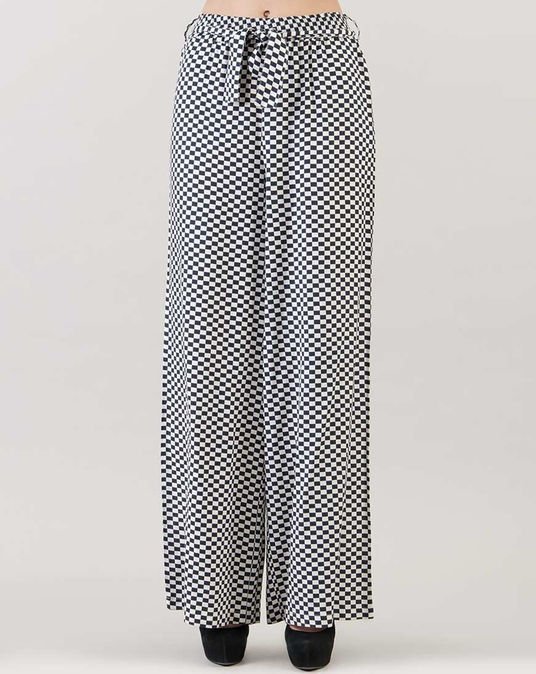 Palazzos are generally more suitable for slightly warmer days till the winter starts. They can be worn to any occasion, by just adjusting the style of the top that you plan to team with them. Starting with your work place which demands sober and formal dressing, to high street grungy fashion with a casual look- these trousers for women are for any place. They can be worked out for the street style and formal look with equal panache. The spring and summer seasons are all about these trousers for women which are available in varying lengths and different names like culottes, gauchos, palazzo pants. Styling these pants can be much fun when we keep in mind their length and some hints to experiment with the different looks like the fashionistas who have championed the trend.
There are several ways in which you play with the looks by wearing palazzos. You can opt to go casual with bright patterns and keep the top simple. You can team them with lacy tops and your statement pumps. You can also go bold and show off a hint of your toned midriff in palazzo pants and a crop top. Whether you go for a matching look or just similar shades, the monotone look can be fully exploited by wearing bold shoes or carrying a quirky bag. Try to team palazzos with a smart leather jacket over a light color blouse and decent wedges. This combination exudes a cool and sober look and does not scream for attention and also makes for a stylish look to carry off in the office. Jumpsuits styled like palazzos are ideal for offering highest level of comfort during the hot summers when you need to remain outdoors for long.
You must try out this latest look to understand what exactly the fashion scene around the world are talking about. And to do so, there is no better place than StalkBuyLove, your one stop high end fashion store, to get the widest and most amazing selection of palazzo pants online.