I knew a little about Chelsea boots before their recent comeback. To me, they were associated with things I'd heard about the sixties. The Beatles used to wear them in their early days, as did the Stones and that typical '60s TV dandy, John Steed. (Steed's sidekick, Cathy Gale, wore 'Kinky Boots', which is another article all together.) They went with Carnaby Street suits, Twiggy, Mods and Rockers, Dedicated Followers of Fashion and were, as far as I was concerned, just a mildly interesting note in the history of the fashion of the last century. If I wasn't determined not to make puns, I'd have called them a footnote.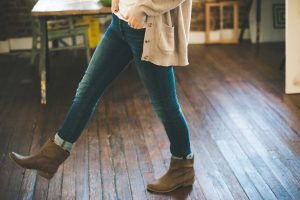 As footwear I could see that Chelsea boots were well-made and good looking items, with their simple, clean lines. The elasticated side panel probably meant that they were comfortable and easy to wear. However, growing up in the nineties and naughties, Chelsea boots seemed about as likely to make a comeback as bowler hats, feather boas or corsets.
Which just goes to show you how much I know; the Chelsea boots women is back and stomping all over the opposition as the leading wear-on-any-occasion boot. While the '60s Chelsea boots were generally for male hipsters, the new range is for women, maybe even more than men.
It makes sense when you think of those strong, simple looks. The very first Chelsea boots, back in Victorian times, were designed for women riders. They had to be strong and practical and yet also stylish. Their modern descendants are likewise keeping up the tradition. The modern Chelsea boots have also carried forwards with them a taste of '60s Bohemia and raffishness – more Soho than Chelsea, really.
It's a weird thing. None of the people wearing these boots are anywhere near old enough to remember the '60s at first hand, but that decade has come to mean so much to so many people that a flavour of swinging London hangs on to Chelsea boots and on to those who wear them. It's as though the wearers are at any minute off to the Scotch of St. James to hang out with some beautiful people.
The other great thing about Chelsea boots is that they are so versatile. I think of them as going naturally with the skinniest of skinny jeans (and with pretty skinny legs inside them, to be honest.) One point to note is that you must ensure that the jeans don't hand down too far over the tops of the boots.
Women everywhere, being inventive, are finding all sorts of new combinations that can be based on the foundations of a good pair of Chelsea's finest. No matter how eclectic the mix and match, the boots just seem to fit in. How about, for instance, sporting them with skinny jeans, a floral print blouse and a chunky cardigan? Could you imagine daring them with an outfit of black tights, a dark floral tea dress and an aviator jacket? I think it would look pretty right-on, man.
Chelsea boots are back and they're not going anywhere.