You might not know it, but there's a lot to memorize about lipstick.  This pretty little beauty staple can be traced back to babylonia and while its history is absorbing, the here and now is even cooler. I could go on and on about maker and shades, but today I'm going to focus only on finishes.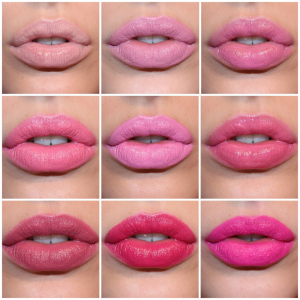 Finish is another word for the texture and appearance of the lipstick.  Color intensity, ease of use and overall look are all affected by the finish.  Some manufacturers will have finishes that are unique to them, but the following five cross most major brands.
Matte
Bold, dramatic and highly saturated, matte finishes give the most coverage and deepest color.  Due to an extremely low moisture content, they have no shine or gloss.  They are also long-lasting, which is always a bonus for those of us that tend to wear away at our lipstick through the day.  However, this finish can be incredibly drying.  It's important to exfoliate and moisturize your lips beforehand.  Make sure to apply a good liner as well since matte finishes tend to bleed and feather.
Crème/Satin
Just about any woman can pull off crème lipsticks, making them the most popular finish.   Crème lipsticks contain a high concentration of oil and wax, which allows them to double as a moisturizer.  Perfect for women with drier lips, they glide on easy and feel lush and smooth. Depending on the brand, coverage can range from sheer to opaque.  It's my favorite finish!
Sheer/Glaze
If you're looking for a more natural look, sheer finishes are the way to go.  This finish provides a glossy, sheer wash of color.  It's not as intense as matte and crème finishes, nor is its coverage as long lasting. It will, however, last longer than your typical gloss.  With medium to high moisture content, it's great for dry lips.
Frost/Shimmer
Want something a little more shimmery or metallic? Frost lipsticks offer a shiny appearance without having to resort to using a gloss topcoat, and have a lovely opaque finish.  The shimmer is created by the use of mica, silica, fish scales, or synthetic pearl, so these lipsticks can feel heavy and have a drying effect.  I recommend apply a good lip balm before wearing lipsticks with a frost finish.
Liquid
Liquid lip color is simply that; liquid.   Coverage ranges from sheer to opaque, and finish from creamy to matte.  Liquid lip colors are used with wand applicators featuring either a sponge or brush tip.  They are much easier to control during application, especially along your lip line.  Unless the package identifies the finish as a stain, most liquid lip colors last only a couple hours at best.
Now that you're armed with some rudimentary knowledge of lipstick finishes, you can choose the one that's the best fit for you!  Let me know what your favorite finish is in the comments section.
As a freelance writer for Glisten, Selina Torres gets to use her unwitting friends as guinea pigs in her very own cosmetic experiments.  When she's not writing, she enjoys kickboxing, Netflix binge watching and proving that Everlasting Gobstoppers are not, in fact, everlasting.