Every man should have at least one suit in his wardrobe. Even if your daily style doesn't require a suit, there are always occasions where a suit is necessary. Whether it's a wedding, a presentation to corporate leaders or your niece's christening, a well-fitted suit is the perfect clothing choice. Wearing a high-quality suit will improve not only your appearance, but your posture and self-confidence as well.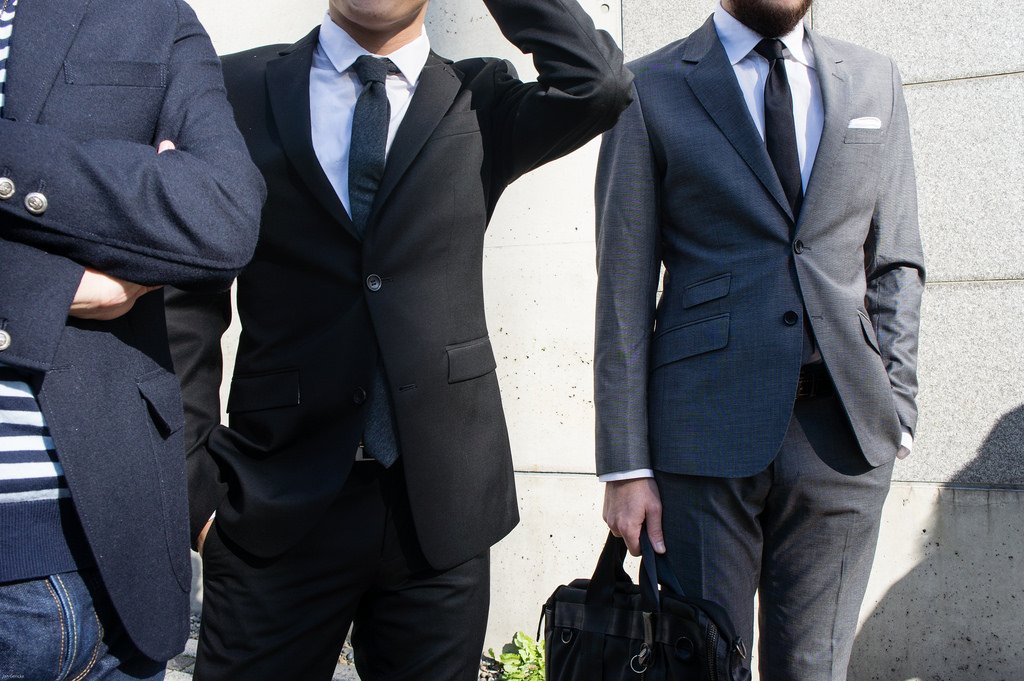 Where to Buy Your Suit
When you are shopping for men's suits, there are two basic choices: having a custom-made suit created by a tailor or boutique, or buying a ready-to-wear suit from a department store. There are advantages and drawbacks to both options, so you need to find the one that works best for your situation.
Buying a custom-made suit tailored to your exact style and measurements will give you the best fit. You can control the fabric, the colours and the design so you end up with a suit that's ideal for your body and style. However, custom-made suits can be very costly, and might not be the best financial choice for a man with a limited budget.
On the other end of the financial spectrum are ready-to-wear suits, often sold at department stores. These suits are usually made with lower-quality materials than those found in a boutique, and are made according to standard sizes. While you can have an off-the-rack suit slightly tailored to fit your body, you don't have the same amount of control you have with a custom-made suit. However, ready-to-wear options are much friendlier to your budget, and can be a good starting point for a man just getting used to wearing a suit.
Choosing the Best Suit for Your Style
Whether you choose to buy a ready-made suit or have a custom one made, there are several things you'll have to know. It's important to know what kind of fabric you prefer. You can find suits made of wool, wool blends, velvet, cashmere, linen or a synthetic material like polyester. Colour is also an important decision. You can choose a solid colour or a subtle pattern, such as pinstripes.
You'll have to decide what kind of jacket style you prefer as well, whether it's single- or double-breasted. The general rule is that double-breasted jackets are more formal; however, it's wise to choose the jacket style that works best for your body type. Lapels are another important part of the jacket: you can decide if you prefer the notch in the lapel to be higher or lower on the chest. Either option is acceptable, as long as the lapels lie flat.
While you're thinking about the options for your suit, don't neglect the pants! The pants should feel comfortable at the waist and not too tight. Choose pants that have a flat front instead of pleats, which are no longer fashionable. Pants can have cuffs at the bottom or not. You should only wear cuffed pants if you are tall, as they will tend to accentuate a short stature.